Recently, we had the pleasure of manufacturing hijabs for one of our clients in Singapore. This was the first time that Clothing Manufacturing Agent Bali was commissioned to produce hijabs, and let me tell you, what a joy that was! Being given this opportunity had the added benefit of the learning experience, especially about their fashion as a statement and the culture of women who wear them.  
Read on to see what I learned from manufacturing hijabs and my recent travels to Dubai.
Manufacturing Hijabs: My New Fascination
This past April while visiting Dubai, we attended the 2015 International Textile Fair. I was able to take in some of  the presentations offered at the event. One presentation in particular interested me – a short yet entertaining presentation about "The How to for Hijabs". It was presented by Natasha Van Der Berg, Creative Director at the Islamic Fashion and Design Council. I had never been to the Middle East before or in a Muslim country, but I have secretly always had a fascination with the hijab. It is becoming quite fashionable to wear them, especially with so many options for manufacturing hijabs with beads, sequence, in silks, or even with studs – they're truly holding a style of their own. What truly fascinated me was learning all the different ways to wear them, like for example, wearing a hijab based on the shape of one's face or depending on the time of day, whether you should style for morning, noon, or evening, and so on.
Putting the New Skills of Styling the Hijabs to Use
Not being a pro at it but having learned the basics, I was happy to use these newly acquired skills while visiting the magnificent Sheikh Zayed Mosque in Abu Dhabi. As you enter, you are mesmerised by the architecture and grand beauty of the Mosque, it's sheer opulence. But in order to enter the Mosque's main grounds, women need to be wearing both a hijab and an abaya. I was prepared and brought my own scarf (a Louis Vuitton, a lady's gotta have style!) but knowing how to wear it was the key to me getting my first photos taken at the Mosque.
Check: I now know how to fashion a hijab!
Teaching the New Skills to others
It is rewarding to learn any new skill but teaching it to others, I feel, is where true learning occurs. After walking around the outside of the Mosque in the blistering heat, I wanted to go inside to be fully immersed. To do so, we needed to reserve an abaya, which was provided for us by the Mosque staff. While in the changing room, there were 2 women from England that were getting dressed in their abaya's. Once it came to putting on their hijabs, they were lost. They turned to me, as I was fashioning my hijab and asked for help; I guess it seemed as thought I knew what I was doing but I was elated to help teach these women how to wear the hijab.
Check out these two images from my trip to Sheikh Zayed Mosque and me in my hijab. The architecture is simply awe-inspiring.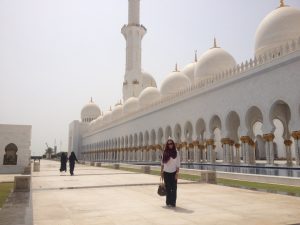 It gained a valuable experience by both manufacturing hijabs to being shown how to wear a hijab as a fashion statement. Having taken the time to observe the ladies in their presentation at the ITF,I not only learned an important new fashion skill which I happily passed on to others but I also learned the importance of understanding other people, their culture, and cultural garments. One thing's for sure, my trip to Dubai was fantabulous and an experience I won't soon forget.
If you would like to learn how we manufacture hijabs, or would like to manufacture hijabs for your own business, please let us know by visiting our website – we would be delighted to help.